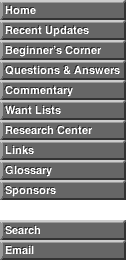 The famous 1974 aluminum cent. Although this piece is listed in the pattern books, it is technically not a pattern, die trial or experimental piece. It is really a rejected or cancelled regular issue similar to the 1964 Peace Dollar or the 1907 Rolled Edge Eagle.

During the early 1970s the price of copper was rising to the point where the penny almost contained one cents worth of copper. This led to the mint testing alternative metals. Aluminum was chosen to the point where over 1.5 million of these were struck and were ready for delivery to the public before ultimately being rejected.

The price of copper later returned to levels which made the production of copper cents profitable so that the mint would not need to change its composition until 1983.

A dozen or so of these are still believed to be in collector's hands. Rumors about at least one of these appeared in many articles in the 2001 numismatic press including the Numismatist, Coin World and Numismatic News. An example originally graded by ICG as AU58 is presently in a PGCS62 holder. The PCGS Coinfacts website notes its weight as .93 grams.

Examples were also made in bronze-clad steel J2152.

PCGS has also slabbed, in January 2014, an example from the Denver Mint as shown below. We are calling it J2153. According to an article on the PCGS and Coinweek websites "This coin was previously owned by Harry Edmond Lawrence who served as Deputy Superintendent of the Denver Mint at the time it was struck 40 years ago." It was to be sold in Heritage's April 2014 sale but was withdrawn due to a U.S. Mint request to return it. The coin then became the subject of a lawsuit. According to a March 17, 2016 article on coinweek.com as well as an April 11, 2016 article in Coin World, a settlement was reached resulting in the Mint taking possession of the piece.




According to an article in the Numismatist and also Coin World, 66 examples dated 1975 J2155 were also struck.

It is unclear whether any of these latter pieces still exist. The Secret Service has said that it will confiscate any of these pieces should they turn up in the market place.

Photo courtesy of the National Numismatic Collection of the Smithsonian Institution and PCGS.