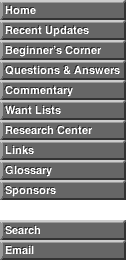 WHITMAN ANNOUNCES NEW FULL-COLOR EDITION OF U.S. PATTERNS BOOK

(Atlanta, Georgia)—Whitman Publishing, LLC, has released the 10th edition of Dr. J. Hewitt Judd's classic United States Pattern Coins, updated with new research, market prices, and text by Q. David Bowers and Saul Teichman.

For the first time ever, the 10th edition is now illustrated in full color.

The hardcover book is a complete resource for the history, rarity, and values of these popular experimental pieces, from 1792 to 2000. "United States Pattern Coins illustrates the trials, struggles, and backstage intrigue that preceded so many of the United States Mint's regular issues," says Whitman publisher Dennis Tucker. "This is a fascinating inside look at America's rarest coins."

Q. David Bowers, the "dean of American numismatics," with the aid of preeminent experts in the field, builds upon the strong foundation originally laid by Dr. Judd in 1959.

Saul Teichman, John Gervasoni, Julian Leidman, Andy Lustig, and Laura Sperber are among the researchers and coin dealers who have contributed to the new edition. Hundreds of crisp new high-resolution photographs complement the text, with many images provided by premier institutions and special collections that hold these rare coins.

The book includes appendices that examine pieces struck outside the Mint; pattern coinage metals; and a gallery of unusual sets and curiosities. It includes new research on authenticity, provenance, populations, rarity levels, recent auctions, and retail values. Gold and aluminum pieces in particular have seen increased market activity recently, while famous "story coins" such as the Amazonian gold and silver pieces, Washlady coins, and Shield Earring silver pieces remain highly popular.

"If you collect U.S. coins and think you've seen it all, you're really only getting half the story," says Mary Counts, president of Whitman Publishing. "United States Pattern Coins will open a whole new world."

The book is available online, and at bookstores and hobby shops nationwide.

352 pages

Hardcover

Full color

$39.95

--------------------------------------------------------------------------------------------------

Editor's note: A listing of errors found for this addition is available by clicking here.