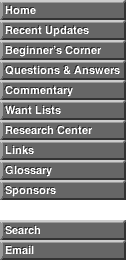 The first of the flying eagle cent patterns. This is the popular design without date or legend. The reverse is Breen's reverse "D".

Examples were struck in the following combinations: To see all available images, click here.

Copper-nickel J178/P206 with only 3 or 4 known.

Copper J179/P207 with over a dozen known.

Nickel P208. This is unconfirmed. Pollock lists the example as Woodside, but lot 70 was actually J219/P209. Judd dismissed this as an example of J178/P206.

Warning: Fakes exist of this design. To view one of these, click here.

Photo courtesy of Early American Auctions.