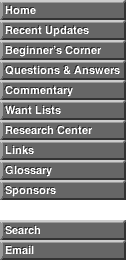 This page will maintain listings of prices realized for significant auction sales. It is not meant to be a listing of every sale which sold a pattern coin.

To access PCGS prices realized, click here.

To access NGC prices realized, click here.

Michael Bourne has worked with the Newman Numismatic Portal to supply the auction research of Bill Rau which contains auction information from the 1850s to about 2000 for all pattern coins. To get to those excel spreadsheets, click here. On the portal there is a section noted as "Download Options". Click on the Excel link and 2 files will appear. You can select them and then download them locally.

You can also get to each file by clicking directly on the links below.

COIN PATTERNS B.xls.

Pattern Prices Realized.xls.

Because of their size, they will take time to open.

For a listing of the important historical pattern sales / collections, click here.

Note: Beginning with 2018, we will no longer be providing prices realized for items which are not really patterns, including 1856 flying eagle cents-J180, 1792 half dimes-J7, 1836 dollars-J60, 1839 dollars-J104, and 1907 ten dollar-J1901 & J1903.