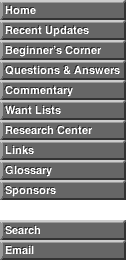 This blue lucite block, which measures about 12 x 7 inches, features 3 examples each of the Martha Washington dime J2101/P2081quarter J2116/P2082 and half dollar J2134/P2083. The dime and quarter are struck on the copper nickel clad planchets of today whereas the half dollar is apparently struck on the silver clad planchets used from 1965 to 1970. This is one of 2 such blocks that are presently in the Smithsonian.

Regarding the blocks themselves, uspatterns.com member Roger Burdette supplied the following:

"My Secretary of the Treasury, Joe Fowler, is a little stingy about making samples, but I have some here. Joe made sure that I wouldn't put them in my pocket by sending them over here in plastic. Actually, no new coins can be minted until this bill is signed. So these strikes, as they are called, are coins that we will never use. On one side is our First Lady, Martha Washington. On the other, a replica of Mount Vernon."

Lyndon B. Johnson, July 23, 1965

Remarks at the Signing of the Coinage Act of 1965

Public Papers of the Presidents, p782

The Martha Washington obverse was designed by Edward R. Grove and the reverse is by Philip Fowler.

These pieces are believed to have been struck in various alloys as the mint was attempting to eliminate silver from our coinage. The accepted alloys, apparently, are the ones saved in the 2 lucite blocks. Click on the thumbnail image for an enlargement.

The mint uses these dies in various sizes for all-purpose testing of planchets both internally and by outside vendors such as IDX Inc, PMX Industries and the Olin Brass Corporation. Because of this, additional Martha Washington trials exist such as the J2180/P4100 and the J2185.

To our knowledge, this is the first time this image has been made available to the collecting fraternity.

Photo courtesy of the National Numismatic Collection of the Smithsonian Institution.